Zoom Live Training Seminar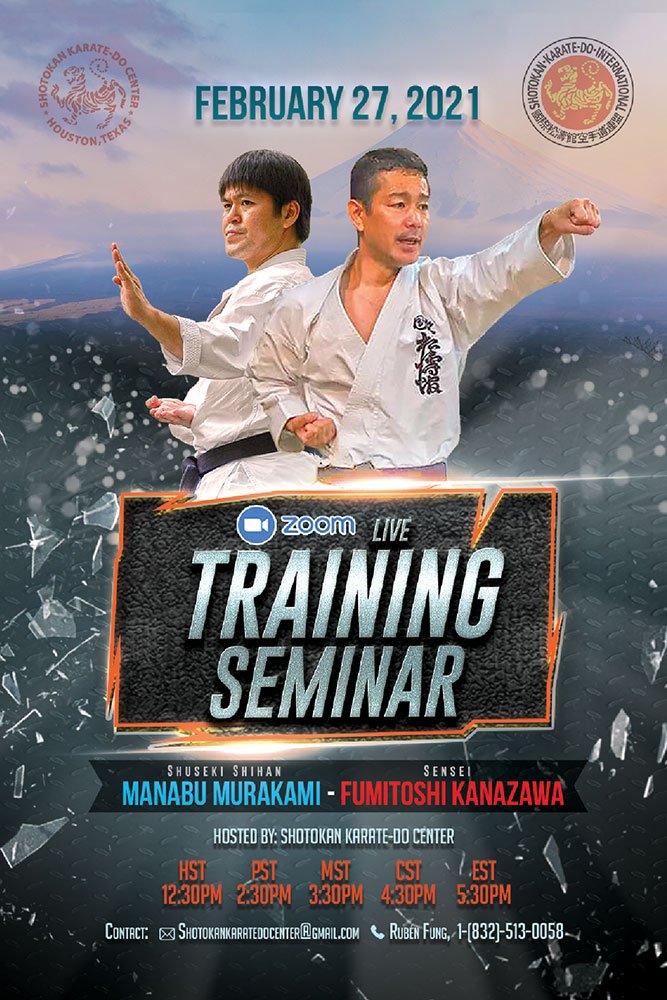 As sanctioned by SKIF-USA, the Shotokan Karate-Do Center is honored to host the 2021 Houston Spring Annual Camp.
Due to Covid-19 travel restrictions, we are hosting this live event virtually with SKIF Japan HQ on February 27th, 2021, featuring Manabu Murakami Shihan and Fumitoshi Kanazawa Sensei.
This event is open to all SKIF member. Space is limited, so please register early.
TIME: 12:30 P.M. HST / 2:30 P.M. PST / 3:30 P.M. MST / 4:30 P.M. CST / 5:30 P.M. EST
For registration please complete the registration form and send via email to reserve your spot to shotokankaratedocenter@gmail.com, then proceed for payment to: https://paypal.me/testkarate?locale.x=en_US and remember to include your name, phone number, and email on the PayPal payment description;
For more information please email shotokankaratedocenter@gmail.com
Looking forward to training with you virtually.
Regards,
Shotokan Karate-Do Center.